This is the most fabulous recipe for cream of Crab soup from Betty Groff's
Country Goodness
Cookbook
. Betty has a restaurant in Amish country in Lancaster PA. One of these days I will make it there!
I use extra potatoes and occasionally add shrimp and scallops to make a seafood chowder. This is a favorite for Christmas Eve dinner following in the traditional Italian 7 Fishes meal. Buon appetito!
Sauté the onion in the butter in a large, heavy soup kettle. Add the water, potatoes, celery, parsley, salt, pepper, and seafood seasoning. Cook, uncovered, for 12 minutes until tender. Most of the liquid will have evaporated. Sprinkle the flour over the potatoes and stir. Add the crab meat, evaporated milk, and milk and simmer on very low heat for 30 minutes more until the potatoes fall apart and thicken the soup.
Note: Be sure the check crab meat carefully for shell pieces before adding it to the soup.

Makes 6 servings
1/2 cup chopped onion
3 T. butter
2 cups water
2 med. potatoes, cut in julienne strips
1 cup finely chopped celery
1 T. chopped parsley
2 t. salt
fresh ground pepper to taste
1/4 t. seafood seasoning, preferable Old Bay brand
2 T. flour
2 c. diced crab meat
1/2 c. evaporated milk
4 c. milk
The recipe above appears in:
Betty Groffs newly revised and illustrated Country Goodness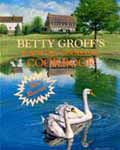 Cookbook is a virtual cornucopia of family recipes and home-spun anecdotes. This 326 page soft-cover edition has seasonal menus, common sense cooking, and microwave ideas. As an added bonus this book is autographed by the author.
Betty Groffs Country Goodness Cookbook $17.95.